28 Day Round Australia Cruise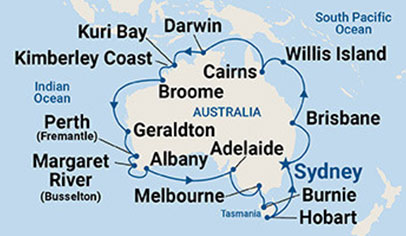 Sydney return | 28 Days 14 Ports 1 Scenic Cruising | Departs 11 Oct 2022 aboard Coral Princess

With Princess Cruises, we are able to explore the magnificent coastlines of our own country, Australia and close neighbours. Get to know the unique wildlife, visit historical sites and iconic cities and discover mesmerising natural beauty. Enjoy open air adventures and refreshing days at sea.
Coral Princess®, is the first Coral Class ship to be based in our region with a range of voyages to pick from. She has more than 700 balcony staterooms & was custom built to navigate the historic Panama Canal. Be sure to try the Bayou Café and Steakhouse, which features New Orleans-inspired Cajun and Creole cuisine, join friends for cocktails and Movies Under the Stars® by the pool or try some decadent treats at the International Café.
In this voyage, Princes Cruises circumnavigation has always been a popular pick and includes many highlights of Australia. Visit the main cities such as Sydney, Melbourne, Brisbane, the Kimberley Coast, stunning Margaret River, vineyards in South Australia and more.
At Princess®, we share our world and our hearts to give guests lasting memories. So dream on. Make plans as we look forward to exploring together.
Cruise Inclusions:


Cruise Fare


Port charges/Government charges


All meals at selected restaurants onboard Coral Princess


Premier Beverage Package & WiFi Package for the first 2 guest in the cabin


Our Cruise Bonus:


AUD85 onboard ship credit per stateroom


Pricing:
Based on 2 persons sharing a stateroom

Oceanview Stateroom (category OE) – from NZD9,149 per person
Balcony Stateroom (category BF) – from NZD10,389 per person

View the deck plan for Coral Princess here

Cruise Highlights:


Australia's key cities


Willis Island


Kimberley Coast (Scenic Cruising)


Kuri Bay


Margaret River


Geraldton, West Australia


Albany, home of Torndirrup National Park


Broome, "Pearling Capital of the World"


Kangaroo Island


28 Day Round Australia Itinerary
Day 1. Sydney, Australia. Embarkation
Day 2. At Sea
Day 3. Brisbane, Australia
Day 4. At Sea
Day 5. Willis Island, Australia
Day 6. Cairns, Australia
Day 7-9. At Sea
Day 10. Darwin, Australia
Day 11. At Sea
Day 12. Kimberley Coast (Scenic Cruising), Australia
Day 13. Kuri Bay (Water Shuttle required, wheelchair access limited), Australia
Day 14. Broome, Australia
Day 15-16. At Sea
Day 17. Geraldton (Water Shuttle required, wheelchair access limited), Australia
Day 18. Perth (Freemantle), Australia
Day 19. Margaret River (Busselton) (Water Shuttle required, wheelchair access limited), Australia
Day 20. Albany, Australia
Day 21-22. At Sea
Day 23. Adelaide, Australia
Day 24. At Sea
Day 25. Melbourne, Australia
Day 26. Burnie, Australia
Day 27. Hobart, Australia
Day 28. At Sea
Day 29. Sydney, Australia, Disembarkation

Itineraries may be changed at the cruise lines discretion


What to expect before cruising with Princess Cruises

As of 4 March 2021 - Princess Cruises is in the process of finalizing all required COVID-19 protocols for guests. Below are the measures currently planned, which are subject to change as further details are established. They will be updated in accordance with guidance from public health authorities.
Princess Cruises are taking steps to implement COVID-19 appropriate pre-embarkation screening, including:



Mandatory enhanced pre-embarkation health screenings, including 100% testing for  COVID-19 prior to embarkation, touchless temperature checks and health questionnaires, in accordance with the latest guidelines


Refer anyone with signs and symptoms of COVID-19 , or who are identified at-risk, for additional medical screening before allowing them to board


Secondary screenings (and health checks throughout the cruise) when necessary


Contact tracing is planned for every cruise
Please ensure you read through the Princess Cruises Covid-19 Guest Protocols, click to read
Princess Cruises Conditions:
Please note that prices are listed per person and based on double occupancy. Three or more guest, please contact your Our Cruise specialist. Prices are subject to change based on availability. Prices shown in NZD & based on Princess Cruise's Princess Plus Fares for Princess Saver Fare, please contact your Our Cruise specialist. Taxes, Fees & Port Expenses are subject to change and Princess reserves the right to collect any increases in effect at the time of sailing even if the fare has already been paid in full. Stateroom views are considered unobstructed unless noted otherwise. Photos, floor plan diagrams, and amenities represent typical arrangements and may vary by ship and stateroom. Actual stateroom may not be furnished as shown. Certain staterooms may vary in size, decor and configuration. Obstructions do not include certain nautical items like handrails, dividers or ship hardware. For balcony staterooms, the view is determined from the perspective of the balcony railing.
Our Cruise Conditions:
YOUR PAYMENTS TO OUR WORLD LTD ARE PROTECTED BY TAANZ. Unless otherwise stated, prices include share twin/double accommodation and inclusions as specified. Special conditions apply for all Bonus Inclusions. Prices are in NZ dollars and subject to currency fluctuations and are for payment by cash, eftpos or direct deposit – Q-Card & Credit Card prices are available. Amendment and cancellation fees do apply and can be up to 100% after booking is confirmed. Our prices exclude international airfares, however if required, please advise your Our Cruise Specialist for options. Prices valid on sailing, ex Sydney, 11 October 2022 only, for any other departures – please contact our specialists for more information. Booked by 30 April 2021, capacity restrictions may apply. Images displayed do not necessarily reflect the advertised room category. Prices were correct as at 29 March 2021 and are subject to change without notification and other conditions may apply. Other conditions may apply - https://www.ouraustralia.co.nz/our-aussie/our-booking-conditions.aspx